Welcome to Make Up Monday where this month we've been having a lot of fun with our Back To School Theme.
Cassy started us off with Art Class where we got to play with some paint. In honor of tempera paint, Cassy challenged us to create some paint confetti! This is so simple and so cute. You can use anything small - a pencil eraser, the head of a pin, a small stamp, etc. and dip it in paint to create some confetti. Here is an example that she created using a small stamp that frankly looked just like confetti!
And then we went to Geography Class with Bev. She wanted us to use textures and layers and depth like the lay of the land.. hills, mountains and valleys etc.
Next came Barb with Driver's Ed....that was a scary class! She wanted us to include wheels or gears in some way on our project. If you don't have either of those, then circles are fine.
Now it's off to History Class. Little did I know that history could be so much fun when it came to scrapping. Nowadays, history means aging, distressing and vintage to me.
Jan gave us a list of things to use on our layout just like the list of supplies you get every year before school starts. She also wanted us to use this beautiful sketch by Audrey Yeager from the My Scraps and More blog.
And our list of supplies was:
at least 3 different pattern papers
mist or paint
tag
button
washi tape
And to wrap up our week we went to Science Class with Annie. She wanted us to get in touch with our inner nerd and find some inspiration from four different categories of Science.
Kinetic motion - you can use paint, arrows or other embellishments to show movement on your project.
Heat Energy - you can heat emboss on your project
Cellular Structure - you can use colored circles or large & small circles
Periodic Table - you can use the letter symbols to create a word or just to start a word.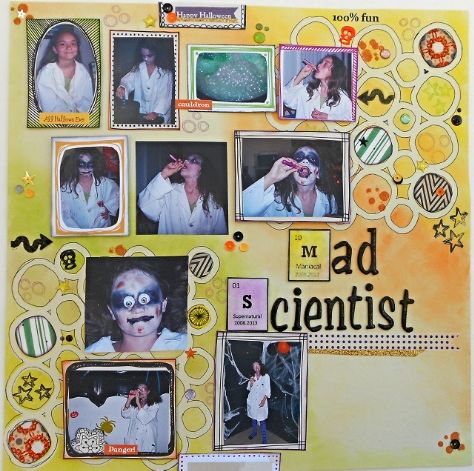 You've still got a whole week to play along with the challenges so grab those pens and pencils and let's go back to school. Each completed challenge earns you one entry into the Dessert Tray prize drawing at the end of the month.