Happy SNOWY Monday Ladies.....Can you believe it's already time for our second reveal of the month. January sure is moving right along! As you know, we're doing things a tad different this month - using the "Scrap Your Stash" theme, but we're hoping that you love our reveals and will join us for the daily BPS challenges this month following the same theme. And be sure to check out the January Dessert Tray while you're at it....a little incentive to use up some of your stash this month!
Our sponsor this month is Laughing Quilter by Lucismiles (an Etsy Store). She has adorable little felties that are hand sewn and embellished and she even does custom orders. You must check out her store!
For our first reveal, we have Barb.
Barb created two cards for you today. She used Scrapbox Walls "Parlor" line by Chatterbox, a definite "oldie but goodie."
She made another layered flower following Jenny's tutorial for the second card. She also used a cute felt heart embellishment by our sponsor, Lucismiles etsy shop.
For this DT Reveal, Cassy made two "cards." The first, Cassy pulled some brown pp and scraps from her stash and decided to create a going away card for her nephew who is going away to college. It is an emergency car kit. It includes all the necessities to be prepared for a break down - (Some Dentyne Ice - to cool down, A Payday - for a little extra cash, A Push-Pop in case you need some help pushing and then of course a Gas Card (just in case.)
The other card was made using entirely scraps from more than one different company, and then she created a flower using Mulberry paper, Vellum, old book pages, tissue paper, Shimmerz, etc.) Cassy used Leah Fung's flower ideas for inspiration.
Next we have Jenny. She
used some MME stuff that's been around a while for this page, along with a Maya Sheer, MM Metal Saying, and the super cute felties from our sponsor, Laughing Quilter by Lucysmiles. She cut my title from fun foam using her Sizzix Sidekick and the Fruit Smoothie Alpha.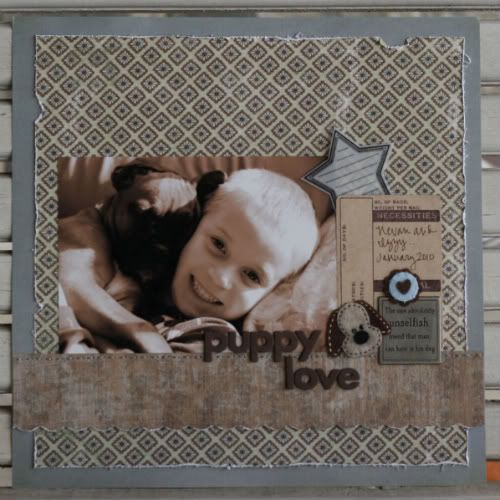 For this week's layout, Jo pulled out some 2006 My Mind's Eye Signature line papers "Unconditional Love" and "Beauty of Life".
And lastly, Tamara
made a little notebook that was altered by adding some "stash" pattern papers, some tabs, and a couple of embellishments!
I hope that we have inspired you to dig deep in your stash and pull out those "oldies but goodies!"