Good Morning fellow Chefs!!!! Hope this week has gotten off to a good start for you!
As you all know, this month we are concentrating on the "Scrap Your Stash" theme. If you are just now joining us, jump right in and use up some of those older supplies (so you can make room for NEW!!) I know I have personally LOVED what I've seen this month!! Lots of great inspiration for using that older stuff!
Don't forget to check out the BPS Challenges too!! Each challenge is also geared toward using your stash...maybe in a little different way!!!
Also, take time to go visit our awesome sponsor for this month...
Laughing Quilter by Lucismiles.
Her little hand sewn felties are adorable!!! I want more of them! You really should check out her "Sold" list to see what all she's capable of...it's amazing! She's even offered CUC Members a little incentive this month...find out about it by visiting the
Message Board
and checking out our Sponsor in the Spotlight!
And now, let's see what our DT cooked up this week!
Barb altered a take-out style box that was leftover from Christmas and turned it into something to hold Valentine's treats for her Granddaughter!! She used some Fancy Pants papers and some Valentine's from a few years ago.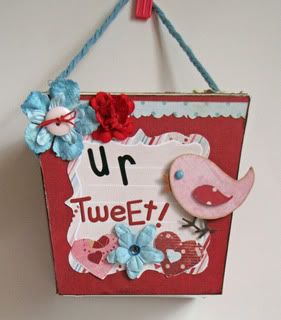 The top: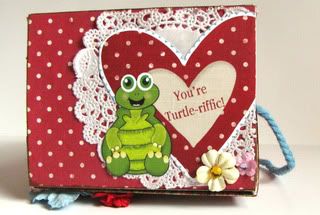 An overall view:
Next up, Cassy! She chose some papers that had a distressed feel to go along with the photo. Then she chose some striped vellum to mimic the fencing in the background of the photo and painted the edges. She then added the photo, pp scraps, and embellished with some felted/stitched hearts from Laughing Quilter, skeleton leaves, tickets, pearls,die cuts and flowers.
Jenny altered a paper mache mailbox using Pink Paislee's "Cupid Collection" from last year, a little Kraft cardstock and lots of Sparkle Modge Podge!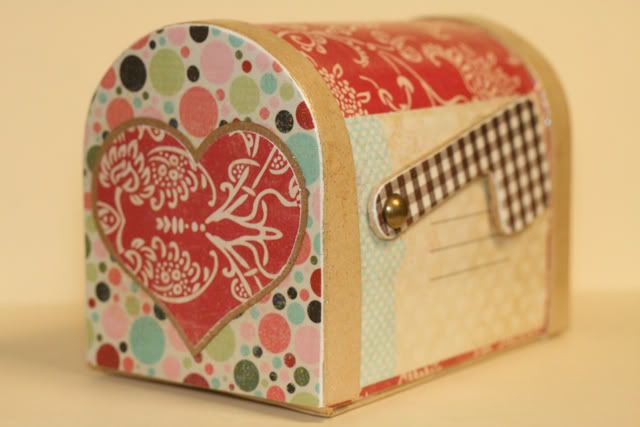 The other side:
Filled with goodies!
Jo chose to showcase the cute felt embellishments from our sponsor this month, The Laughing Quilter Etsy Shop. She made some really cute cards by using some
great Bo Bunny papers from her stash that matched the felt embellishments perfectly! She included two views of each card because she also decorated the inside of the card!
And last, but not least, here's a layout by Tamara.
Make sure you check out these challenges and those from the prior weeks and check out the dessert tray for this month's prize!!!!