The Design Team is still working with these wonderful paper packs from DCWV. Look at what great things tey came up with this week!
Barb
Have I mentioned how much I love the DCWV "Colorful Life" paper stack???? For this layout, I followed directions on the DCWV website -- with a few adjustments to suit my style and photo, of course. I cut around the big graphics and matted the patterned sheet, then cut slits in the design so I could slip my matted photo underneath. I love the way everything just POPs on this layout! For the title, I used a DCWV rub-on over a Pressed Petals chipboard tag and sanded the edges to make it stand out. Added a rhinestone and it's good to go.
Cassy
My grandmother mentioned to me the other day that she wanted to take home some of my spider babies. My plant is so heavy that it is being pulled out of the pot so I decided that this would be a perfect little project. I did some fussy cutting on the flowers from the Paper Whimsy DCWV pack and then I embellished with buttons, ribbon, and twine. I included a plant marker at the top with some more DCWV (yellow) papers and a few more embellishments.
Jenny
I made a quick shadowbox using the Pressed Pebbles Chip Chatter Alphas and some stone tiles I had left over from another project...can't wait to display this simple piece in my living room!
Jo
The DCWV papers are so heavy, they are perfect for cards!! I used some papers from the Tahiti Stack to make these congratulations cards for some of the many young adults I know who are graduating high school right now!! I love the bright colors of this stack and how the papers hold their shape even when bent for my flowers and butterflies!
Tamara
Both of these cards were made using the Weathered and Worn stack. I used three different pages to make this card wild.
King of the Jungle
FROM GUEST DESIGNER NICOLE:
I used the DCWV chipboard tags and the Sweet 8x8 paper pad for this layout. I love these tags... they already have adhesive on the backside so you just have to stick them down; and my favorite thing is that they come with a little nail file that you can sand them down with... I wanted to do something fun with them, so I decided to use half a package and make a banner... so cool... they come in all kinds of fun shapes and sizes. The pattern paper is from the Sweet themed paper pad... I loved the bright colors and the fun fruit... so they had to be paired with the perfect sweet fruity pictures... Jamba Juice it had to be.... We love smoothies and when we get back to California it is one of the first stops. I miss Jamba Juice sooo much living in Norway... up where I live we don't have smoothies at all.... I can just look at the layout and almost taste my favorite flavor....heehee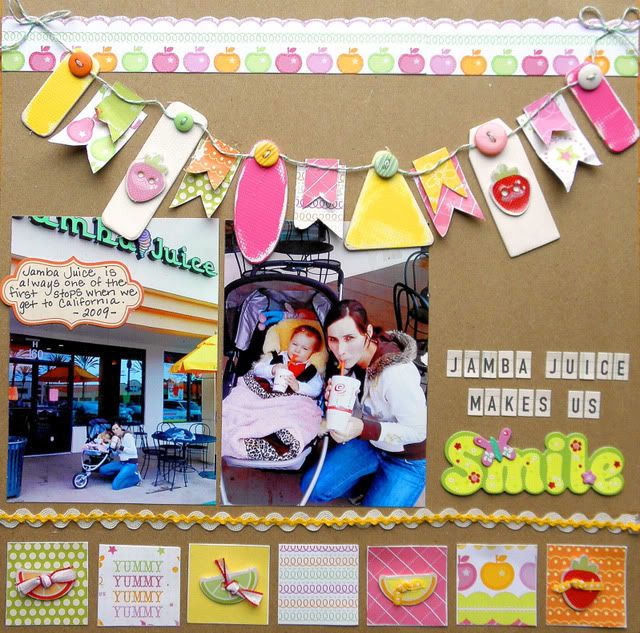 We hope you enjoyed this weeks reveal as muc as we did!