This month, we'll be showcasing different paper Stacks from Die Cuts With A View. Each Design Team Member was given a different stack to work with, so this should definitely be a month of variety for sure! Also, stay tuned in the next three weeks for some reveal layouts from our very own Crop Chef winner, Nicole Brenna !!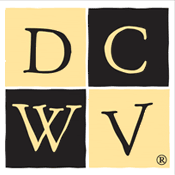 Please make sure that you take the time to check out generous sponsor this month! And stay tuned for some amazing creations from your Design Team here at Cookin' up Creations using the Paper Stacks from Die Cuts With A View.

Now for the reveals........
Barb
I'm working with the "Colorful Life" stack. This week I created two cards from one sheet of paper. The graphics in this line are big and bold, so I didn't need to add a lot to make a big statement. I love the offbeat birds, the splashy flowers and, of course, the touches of glitter.

I'm saving this one for my husband -- our anniversary is in July. I added some little punched out circles of red glittered paper to the center of one flower for extra impact and a DCWV Colorful Life rub-on:
I used another image of the crows for this card, this time with letters I cut from black glittered paper.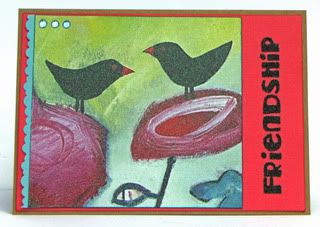 Cassy
The colors in my Paper Whimsy stack from DCWV went so well with the photo of us snorkeling at Sunset Beach in Mexico. I layered DCWV patterned paper, I painted a background mat with some added splatters, a journaling spot, some Fancy Pants rub-ons, and also added some Pressed Petals Chipboard Letters and Thickers to create my title. Thanks for sharing my vacation with me!
Jenny
Still having lots of fun working with the "All About Boys" stack from DCWV!!! All I added this week was some Queen and Co bling and I stamped the large letters of my title using the SU Headline set.
Jo
I love the Tahiti Stack from DCWV for the beach themes...but this week I decided to use some of the great prints for a more formal photo of my three when they were younger. The blues in the papers went together so well. I also used a big DCWV Pressed Petals Chip Chatter #3. The blue matched the paper but I decided to add some black ink and some white paint to give it a more distressed look.
Some Prima and Kaiser Craft flowers, buttons, Divine Twine, a ribbon and some crystal bling complete the layout.
Tamara
I am working with DCWV's Weathered and worn stack. This week I chose to alter this purse I found at Michaels.
I used a leopard skin type pattern paper to cover the purse. This paper is quite thick and has a shiny look to it. It almost feels heavy. I really like it! I added some black rick rack, the jungle saying from DCWV Animal Crackers pop up stickers. I made a flower with Heidi Swapp flowers and added a leopard pp for the center. I used brown chalk to cover the top of the cardboard.
Then I used a snake skin pattern to make a notebook for the inside.
And here is the notebook in her new stylish purse.