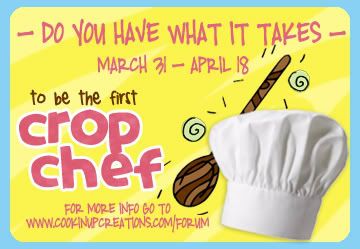 The CROP CHEF competition is underway; we've completed the first challenge, and there are some fantastic layouts! Even if you have missed the first challenge, there is still time to join in. We have lots of opportunities to earn points, and the challenges are going to be fun and interesting! Come on over and join in the fun
Here's the schedule:



Thursday, March 31
Monday, April 4
Thursday, April 7
Monday, April 11
Thursday, April 14
Monday, April 18



Here are the particulars and the rules:



1) Each challenge will include a recipe of "ingredients" and techniques that MUST be included in your layout.
2) The deadline for each Thursday challenge is Midnight (EST) the following Monday. The deadline for each Monday challenge is Midnight (EST) the following Thursday.
3) Your completed layouts must be uploaded into the CROP CHEF gallery here by the challenge deadline. (Note: If you are new to the forum, you will need to register separately for the gallery before you can upload or leave comments.) Please label your layout with the challenge number.
4) You may create a 12 x 12 or an 8 1/2 x 11 inch layout for each challenge. If you choose to do cards, then you must complete TWO cards for the challenge; and EACH card must have all of the required ingredients and techniques.



How do you get points?



Everyone gets one point for each challenge that you complete. In addition ... forum members will have the opportunity to vote for their favorite layout. The first place winner in the poll will receive five points; the second place winner, three points. We'll also have some bonus challenges and other fun ways to earn extra points throughout the competition. There are no eliminations! And if you miss one challenge, you can still participate in the next one.



The grand prize!



The person with the most points at the end of the competition will be named CROP CHEF! and will have the opportunity to be guest design team member for the month of May. The CROP CHEF will be invited to participate in our upcoming blog hop and crop for National Scrapbooking Day; will receive product and participate in our weekly design team reveals; and will issue her own Blue Plate Special challenges.